Frequently asked questions
How does Voila Laundry work?
---
Voila Laundry couldn't be more simple to use. Sign up for an account, drop off your order or arrange for a pick up, and we'll let you know when it's ready. We're making doing laundry a thing of the past. Like more info? See our video below.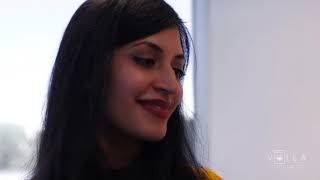 ---
When Will Voilà Pick Up My Order?
---
Your Order will be Picked Up Same Day if it is Placed in the Locker Before 9am.
---
How Will My Items for Cleaning Be Handled?
---
Garments and Household Items will be Professionally Laundered According to the Instructions on the Care Tag.
---
What is the Turn Around Time for Getting My Order Back?
---
We do our best to ensure that your orders get delivered back in a timely manner. However, we also need to ensure that we properly treat stains and press your clothes. In most cases, orders are delivered back within two business day, but if one item is held up, we will hold the order until the next day when everything is ready. Items such as shoe shines, sheets, pillowcases, hand washed items and other specialty items often require an extra day of processing and may delay your order.
---
Are My Items Safe in the Locker?
---
Our Lockers are Equipped with Single-Use Digital Locks. No One Other Than A Voilà Representative Can Gain Access to the Locker After You Have Secured it with a 4-Digit Code (Any Code Will Work).
---
How Does Voilà Compare on Price with Other Dry Cleaning and Laundry Services?
---
We Believe You Will Find Our Services Result in the Best Value by Giving You Back the Time You've Earned. Our Prices are Comparable to Other High Quality Dry Cleaners in the Area. The Adage "You Get What You Pay For" Holds True.
---
The Code I Received to Retrieve My Order Doesn't Work. How Can I Get Someone to Help Me?
---
Please Confirm that You Are Trying to Open the Locker that was Included in the "Order is Ready" Communication that was Sent. If You are Attempting to Access the Correct Locker, Carefully Read the Instructions Affixed to the Locker Unit On How to Correctly Enter Your Locker Code. If You are Still Unable to Access Your Order, You Can Email Us at customerservice@voilalaundry.com or call (214) 794-3253 and We Will Walk You Through How to Retrieve Your Order. Please email us at customerservice@voilalaundry.com with any questions concerning quality, billing or any other questions you may have.
---
---